VIN QINGDAO 2021 ONLINE WORKSHOP – FIRST EDITION
HOW TO BUILD STRONG BUSINESS IN CHINA
VIV QINGDAO 2021 will continue improving its online platform and host a series of high-level international webinars focusing on "trade, technology, products, policies, industry, etc."
The first edition of VIV QINGDAO 2021 Online Workshop was themed at helping overseas enterprises to build business in China including development trends, policy explanation, new opportunities, market strategies, etc. for better international cooperation. Industry experts, professionals and representatives from leading overseas companies/joint ventures were invited to share their experience.
Heading to the 2021 onsite show, VIV Qingdao keeps organizing interesting and intellectual webinars to connect the industry leaders, policy makers, research professionals, marketing professionals, and many other experts. These online sessions serve as a platform to understand the market well and build on professional relationships.
WANT TO SPONSOR THE NEXT WEBINAR?
Note: choose the option 'I want to sponsor a webinar' in the contact form
Webinar series for VIV Qingdao 2020
Running up to VIV Qingdao 2020 in September, the organization of the event hosted a series of webinars for the Chinese industry.
Speakers:
– Ina Enting – Asian Director, Netherlands Agro & Food Technology Centre; CEO of DMFC
– Johan Den Hartog – Managing Director of GMP+ International
– Dr. Lourens Heeres – Manager Global Technical Support, Sonac
– Karel Grootaers – Product Manager of Lianol® for Ardol BV
– Guan Xiaonan – Swine Researcher, Schothorst Feed Research
Program:  (Beijing times, CET starting time is 10.00 AM)
16:00 – 16:10  Opening remarks by Yvonne Osseforth // Global Dairy Farmers
16:10 – 16:30  'Nestle's contribution for China Dairy Upgrading' by Brenda Jia // Nestle Dairy Farming Institute
16:30 – 16:50  'Right management for good milk quality' by Snorri Sigurdsson // China-Denmark Milk Technology Cooperation Centre
16:50 – 17:10  'Global dairy developments and the impact on running your farm' by Ad van Velde // Hunsingo Dairy and Global Dairy Farmers
17:10 – 17:30  Q&A session
17:30 – 17:35  Closing
Speakers:
– Berry Wang, Business Director of Agri-intelligence Consulting
– Prof. Bas Kemp, Full Professor and Chair Leader of the Adaptation Physiology group of Wageningen University
– Prof. Yao Wen, Doctoral supervisor, Nanjing Agricultural University
– Ayongxi, President of International Cooperation Committee of Animal Welfare, China Association for the Promotion of International Agricultural Cooperation (CAPIAC)
– Zhang Xiaodong, Technical Director of Qingdao Runbiotech Co., Ltd.
Speakers:
– Ayongxi, President of International Cooperation Committee of Animal Welfare
– Dr. Kate Hartcher, Senior Animal Scientist, Global Food Partners
– Sun Weiming, General Manager of Orient (China) Agrotech Co., Ltd.
– Tian Hui (Mike), National Sales Manager of Vencomatic China
Speakers:
– Zhou Panyi, CEO of Mu Ke Media; Deputy Secretary-General of Insight Together Share (the Agricultural new media alliance)
– Martial Sardin, Manager IFIP China, L'IFIP – INSTITUT DU PORC
– Cui Weihao, Director of Big Herdsman Swine Farm Design & Research Institute, Qingdao Big Herdsman
– Zhang Luxian, Vice General Manager, Qingdao Zhonghai Environmental Group
– Wang Yanzong, Senior Sales Manager of Clean Technology Systems Department, DÜRR Paintshop System (Shanghai) Co., Ltd.
The second broadcast on June 11, moderated by Allen Shu, Managing Editor of AgriPost, discussed the following three different subjects. Aidan Connolly, CEO of Cainthus; President of AgriTech Capital kicked of with the subject How Corona is affecting the Global Food supply and the role of digital technology to address the challenge. Followed by Dr. Nie Zhidong, Marketing Director, Smart Animal Husbandry Company talking about The value and solution of swine farm digitalization and Smarter Layer in China.
The first broadcast on May 20, moderated by Ms. Wang Wenjuan, former Vice President of "Feed and Animal Husbandry" Magazine of brought together four large players from the industry to discuss how COVID-19 is affecting the international/export business on animal husbandry in China and the countermeasures to address the challenges that brings. The webinar proved to be quite well welcomed from the Chinese market, with 5162 views and an average watching time of 40 minutes per visitor.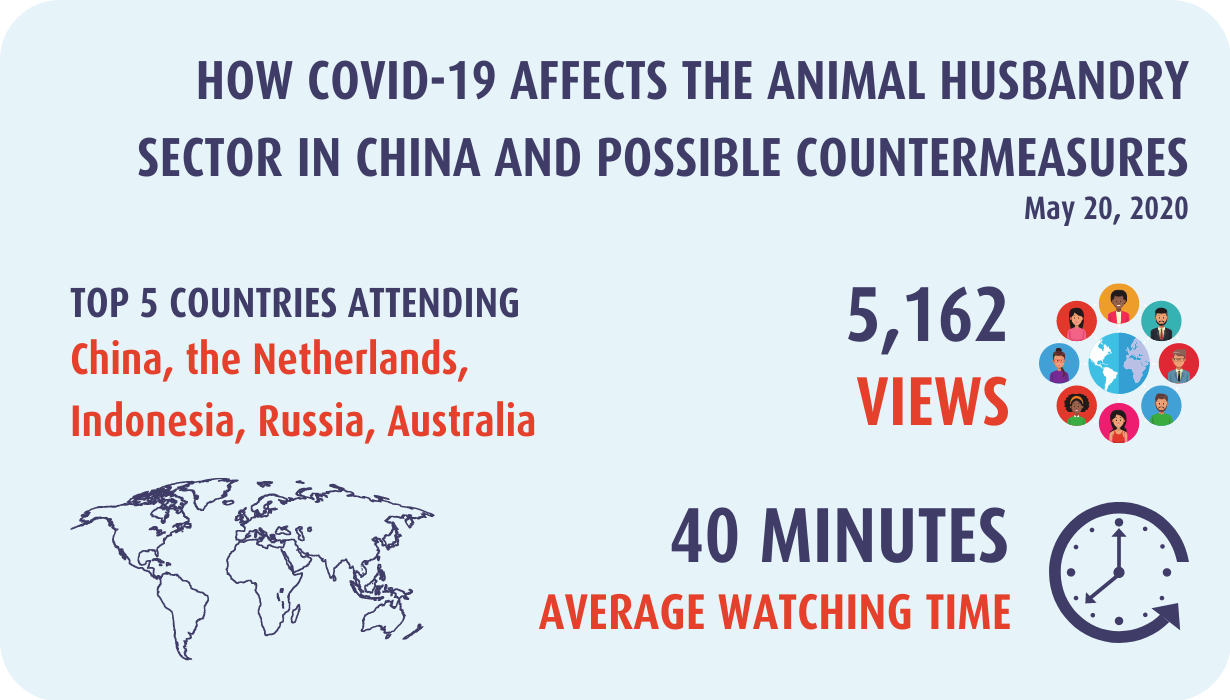 REGISTER NOW FOR VIV QINGDAO
Qingdao Cosmopolitan Exposition

No.3399 Sansha Road The West Coast New Area (Huangdao District)
Qingdao Shandong Province, China
Dates
September 22-24, 2022
Opening hours
To be updated!